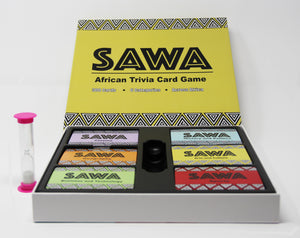 SAWA African Trivia Card Game
SAWA Trivia is a fast-paced, exciting African pop-culture card game that is guaranteed to keep one on the edge of their seat. Imagine learning while having fun! It's great for game nights and social gatherings.


SAWA Trivia covers many aspects of the African continent. The cards are categorized into six major categories:
History and Politics
,
Geography, Arts and Culture, Cinema, Sports
and
Business, and Technology.